Save time
in managing your leads
What is a

CRM

?

CRM (Customer Relationship Management) is also called GRC (Gestion de la Relation Client).
The CRM is a tool that will allow you to better monitor your daily prospecting. No more computerized follow-up tables, no more paper diaries to note down your appointments, you will be able to transform your prospects into customers in an intuitive way!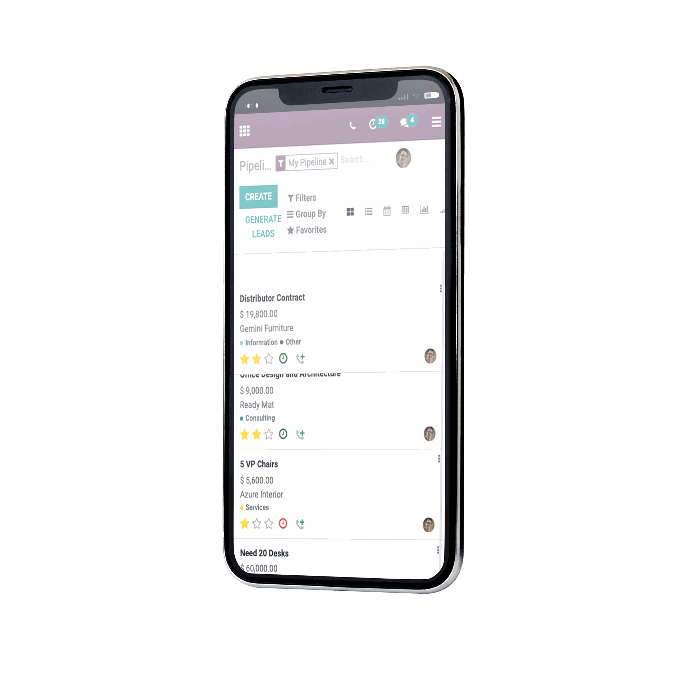 Digitalize
your sales organization
Your sales team becomes more efficient with Odoo's CRM suite. It allows you to organize the management of leads* and opportunities* so that you don't forget any reminder!
With Odoo CRM, you will be able to build the different steps of your prospecting process according to your company strategy. These steps will be presented as columns, representing your pipeline. In each of these columns, you will be able to set up various actions (sending documents, sending quotes...). These columns offer a clear vision in real time and precise of the commercial activity.

*lead: a potential customer who contacts you and leaves his contact information because he is interested in your offer.

*Opportunity: lead that has been converted into an opportunity in order to start the process of transforming the lead into a customer.
Un exemple pour vous permettre de visualiser les étapes.
New
Here you will find all your leads that have been converted into opportunities.

Presentation of the company
From this column, you can automatically send a presentation of your company to your prospect.

Proposal of quotation
Linked to the Sales application, send your quote directly to your prospect.

It is important to feed your prospecting funnel with the steps to transform your prospects into customers.
Odoo helps you do that!
Via an

incoming flow
---
Depending on your business sector, various channels are used to contact you: website, email, call... In order to facilitate the management of your prospecting, Odoo centralizes all the requests (leads) in a tab, "Leads", present in your CRM. Your sales representatives can create their leads directly in this tab.
Each lead contains the contact information and the request of your prospect. This information will allow you to create a contact record when converting your leads into opportunities. This step allows you to start the process of transforming your prospects into customers.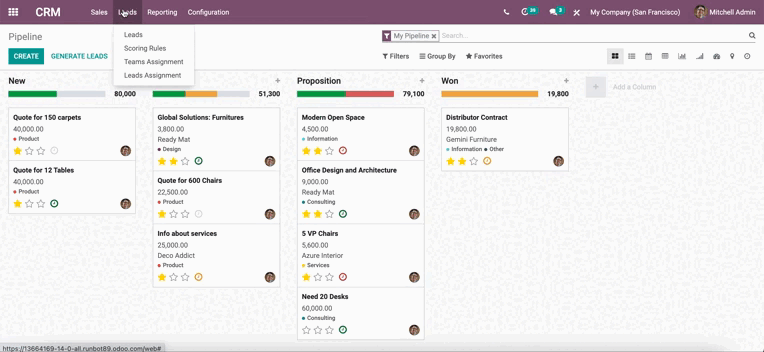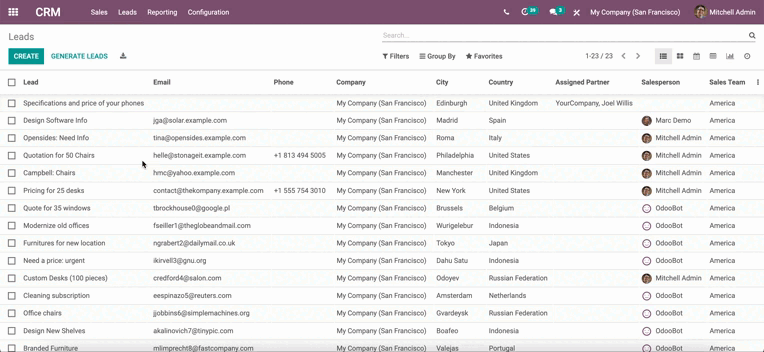 Prospecting via Odo
o
---
The Odoo CRM suite allows you to convert your website users into leads and also to recover external leads while saving time. Thanks to artificial intelligence, Odoo allows you to prospect directly from your CRM according to selected search filters: number of employees in the company, business sector, geographical area...
Now that your pipeline is created, it's time to set up the parameters!
Automatic creation
of the contact form
---
Using the information collected in each lead, Odoo generates a contact form that you can complete if necessary.
You can also create your record independently of the leads. To do so, you just need to create a record with the contact information of your contact. For records related to companies (suppliers for example), Odoo automatically fills in the contact information using the VAT number. It also detects duplicate records and proposes to use the existing contact or to create a new one.
With Odoo, enrich your customer file without "polluting" it.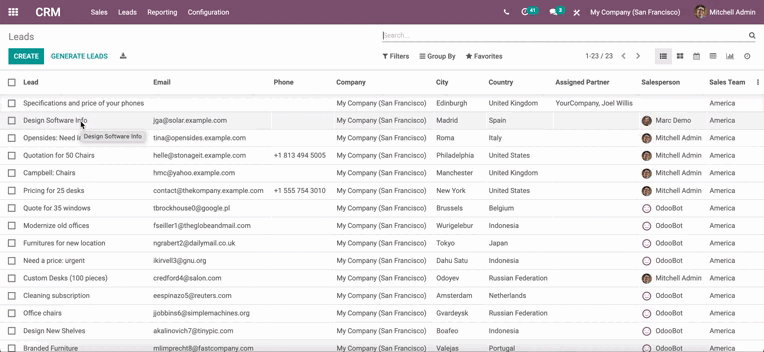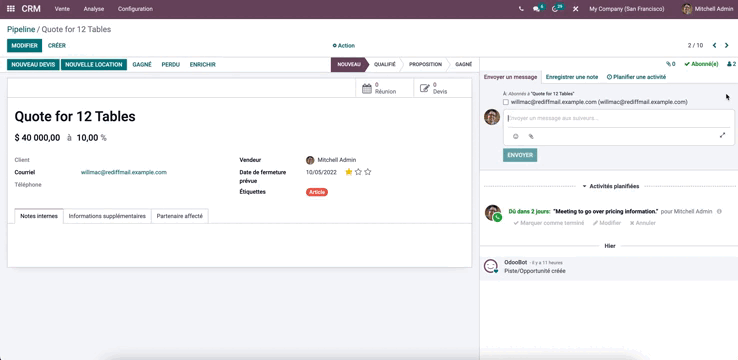 Loyalty
of your prospects
When prospecting, email exchanges with your prospects are regular.
Odoo allows you, for each of your opportunities, to send an email directly to your prospect by adding attachments if necessary. This feature allows you to centralize the exchanges between your prospects and your sales team. A considerable time saving when searching for information transmitted between the two companies!
You also have the possibility to subscribe your collaborators to each opportunity so that they can follow the exchanges and the progress of the prospection.
Follow-up
of the opportunity
Several people may intervene on the same opportunity during your prospecting process and perform different tasks. Odoo provides for this through "planned actions" that inform and/or remind the concerned collaborators of the task to be performed and its deadline. Once done, the "Done" notification will trigger a second action for the same employee or for another one.
Planned actions" are essential to improve the organization and planning of your teams' tasks.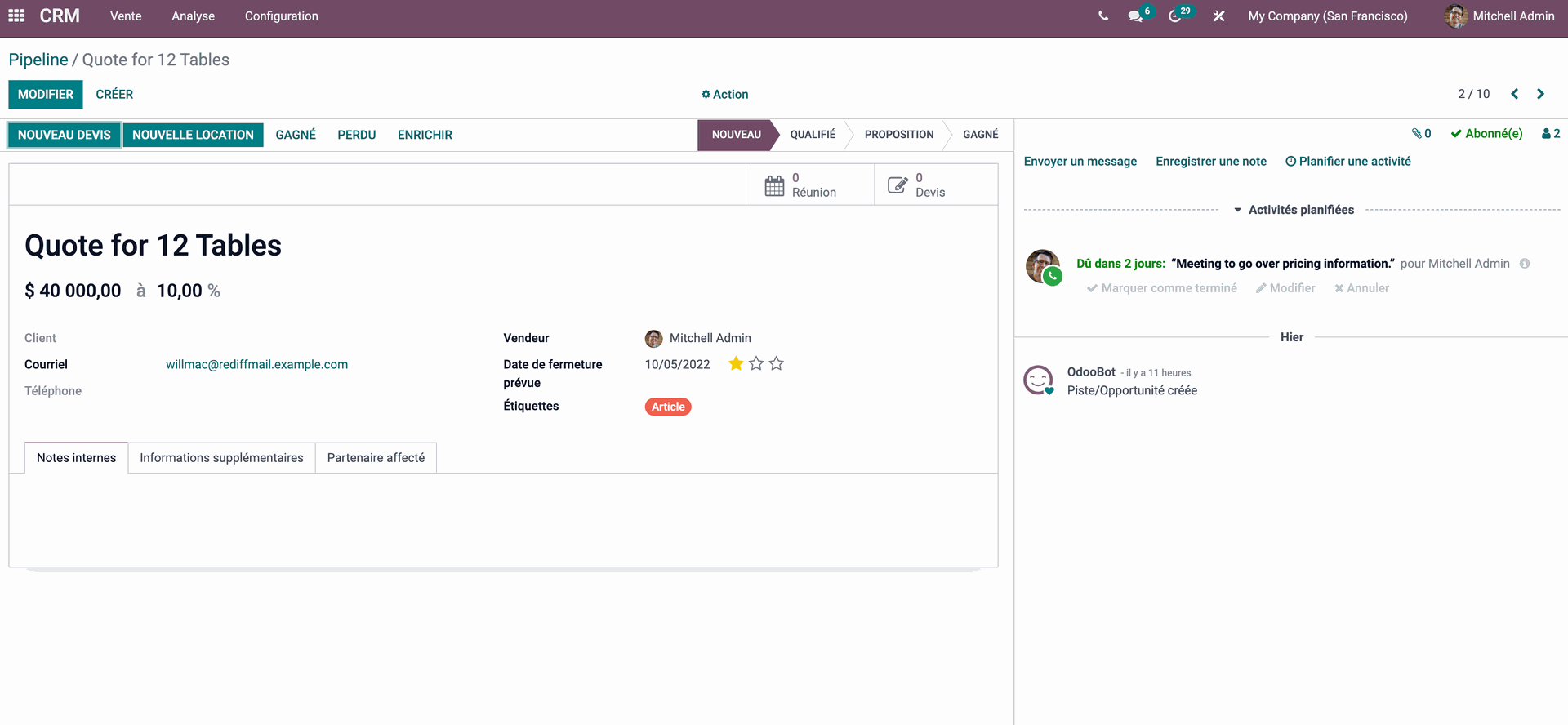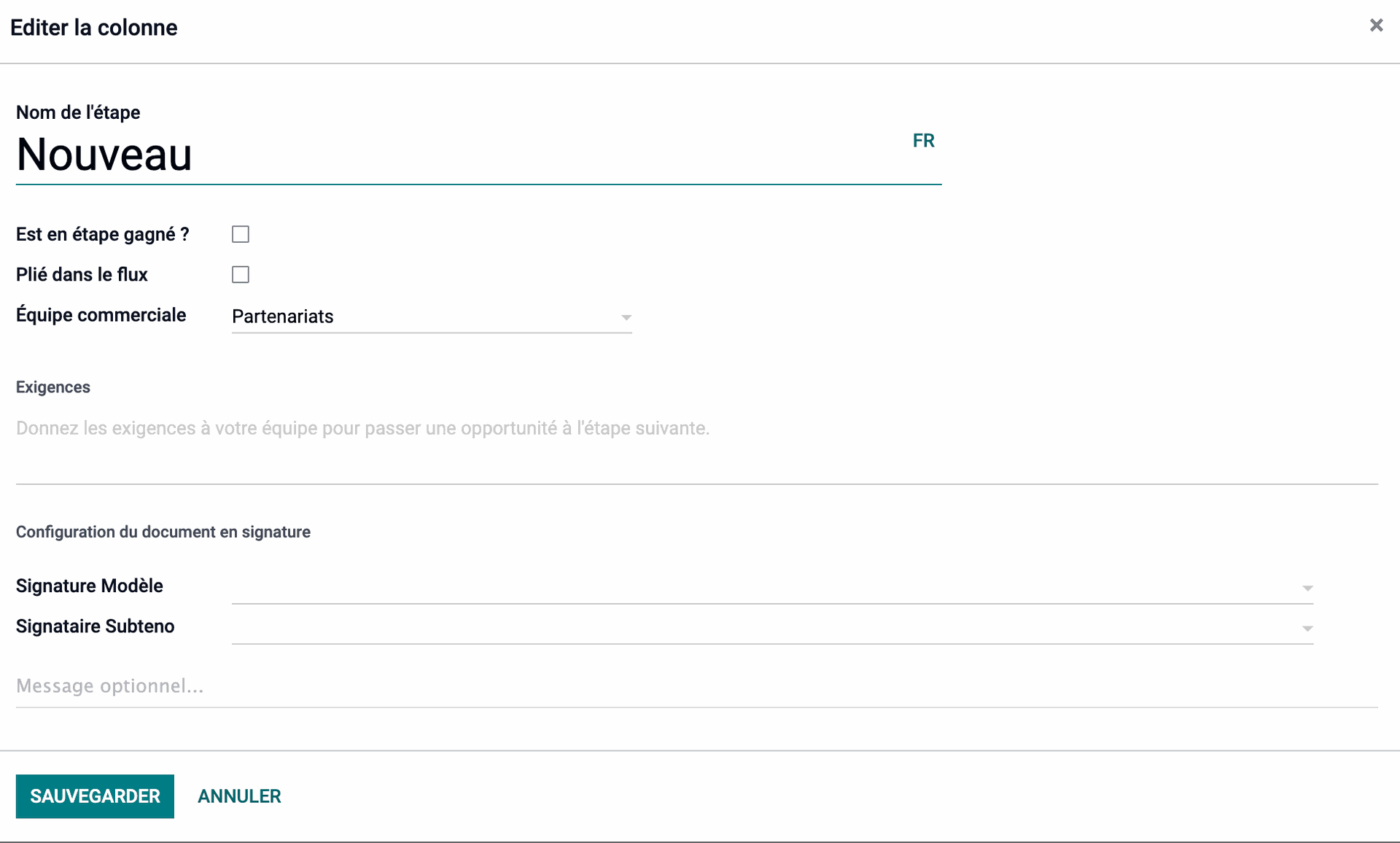 Automated
email templates
Between sending sales brochures, quotes, contracts, etc., salespeople must be organized and very diligent.
The Odoo CRM provides for the automated completion of these steps. Coupled with the Document application, the sending of email and document templates can be set up in each column of the CRM. Odoo does not stop there! Linked to the Signature application, the document template sent to the prospect can contain an electronic signature request to one or more people. Very practical for sending contracts or confidentiality agreements!

In order to save time for your sales representatives, the CRM added to the Sales application, allows you to build your estimate by simply adding the products and their quantity then your various amounts will be calculated automatically. Then send your quote in 1 click!
Track
and

analyze

your data

The Odoo CRM application allows you to follow the activities of your teams in real time according to the steps defined in your CRM. You can also visualize their results individually and over a given period. We call all this data reporting.

No more selections of numbers in a computerized table to manually create your analysis charts! Odoo offers you the possibility to follow your CRM data in different formats: dynamic cross tabulation, graph, cohort, dashboard.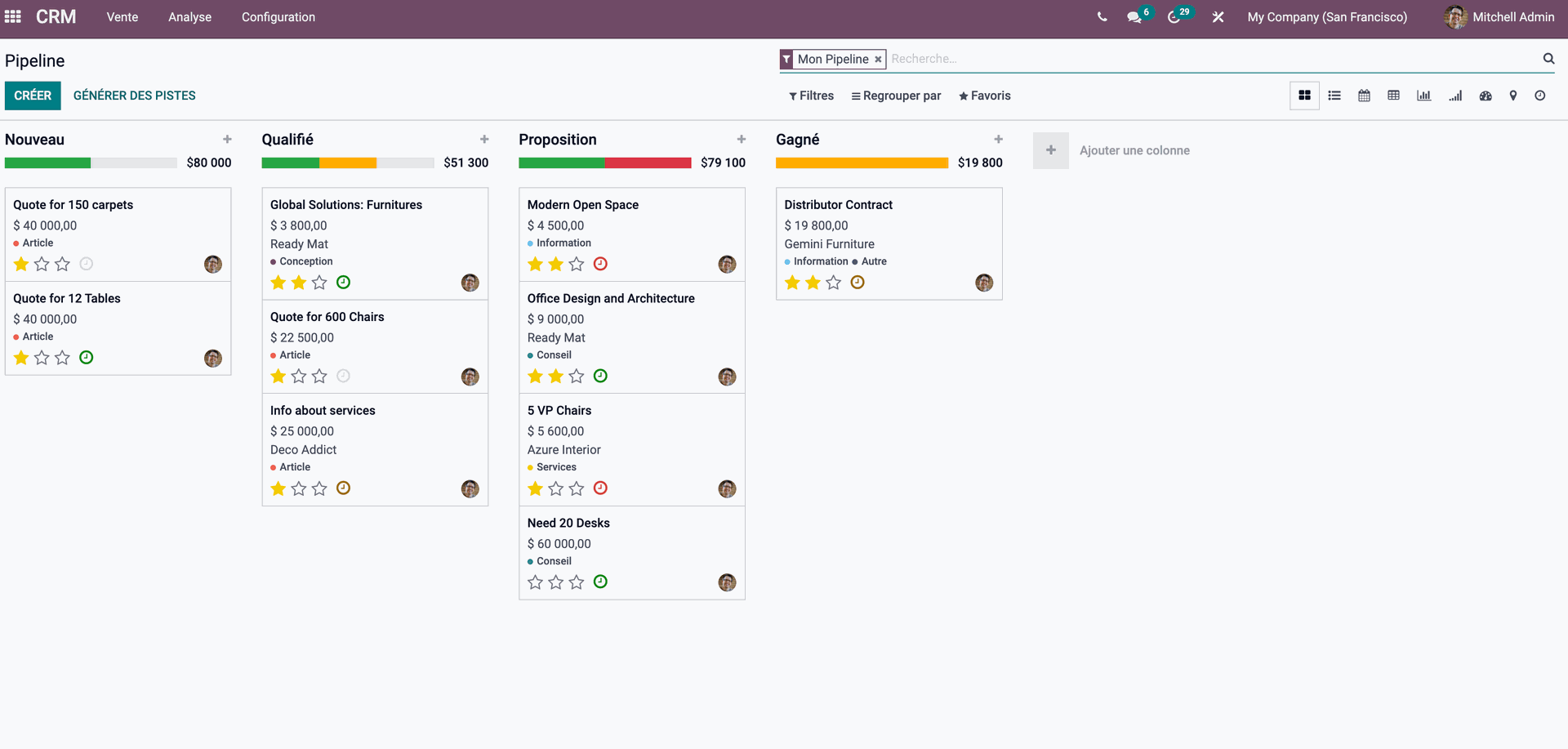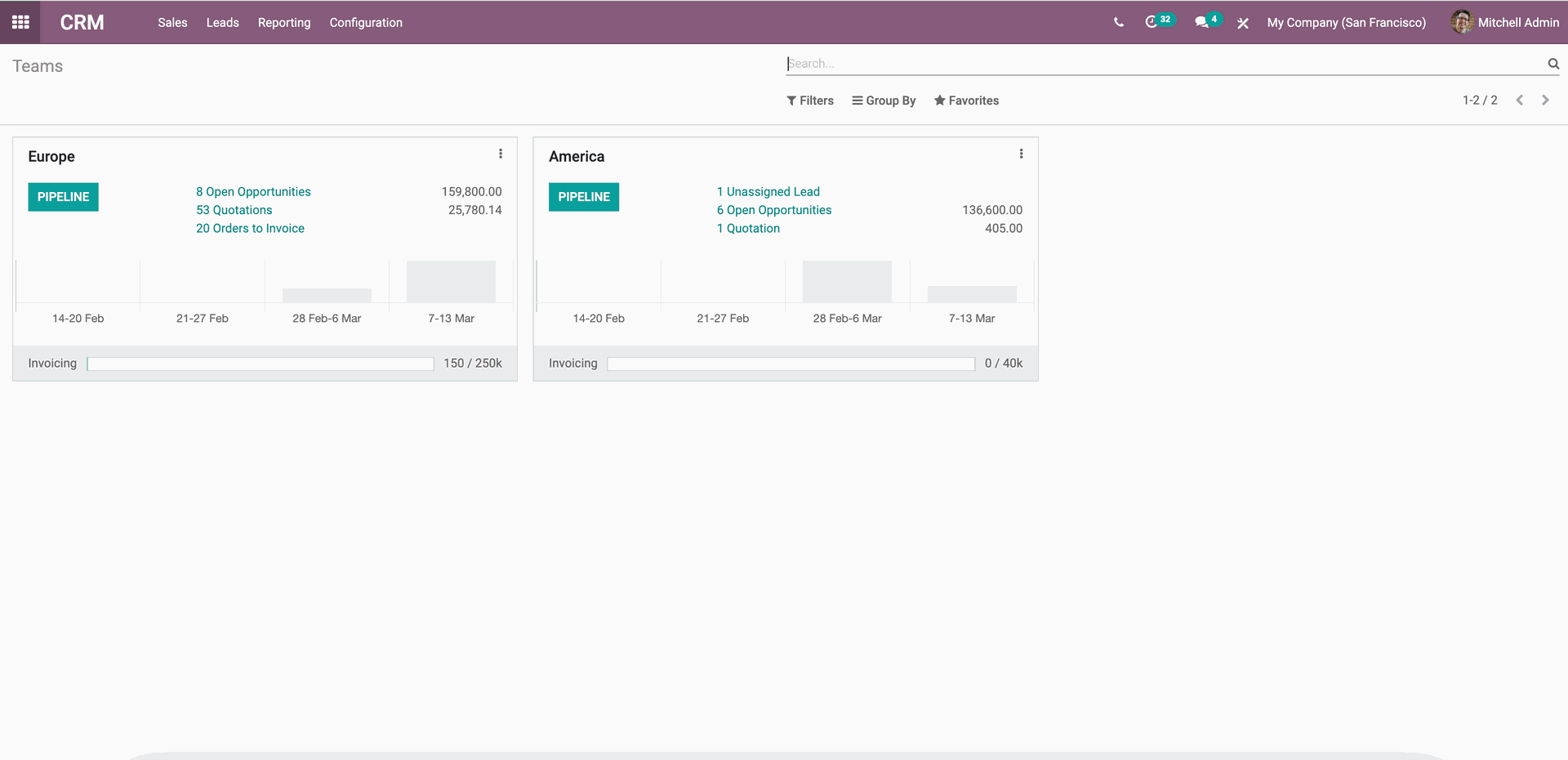 The analysis of the activities of your sales teams in the CRM does not stop there!
With Odoo, create a CRM by sales team (team gathering your sales representatives) and by territory. This allows you to analyze the results according to your sectors of activity (textile, footwear... for example), according to the brands sold and according to your network on the territory.
Coupled with the Billing application, you have the ability to view the estimated and billed revenue by sales team.
Odoo

, much more than

CRM

!



Automation
of CRM steps
Linked to the Marketing Automation application, you have the possibility to automate the passage of an opportunity from one column to another once the email sent in the previous column has been opened. You will also be able to see if the link inserted in your email has been clicked or not. These features are assets that allow a better follow-up of the prospecting steps.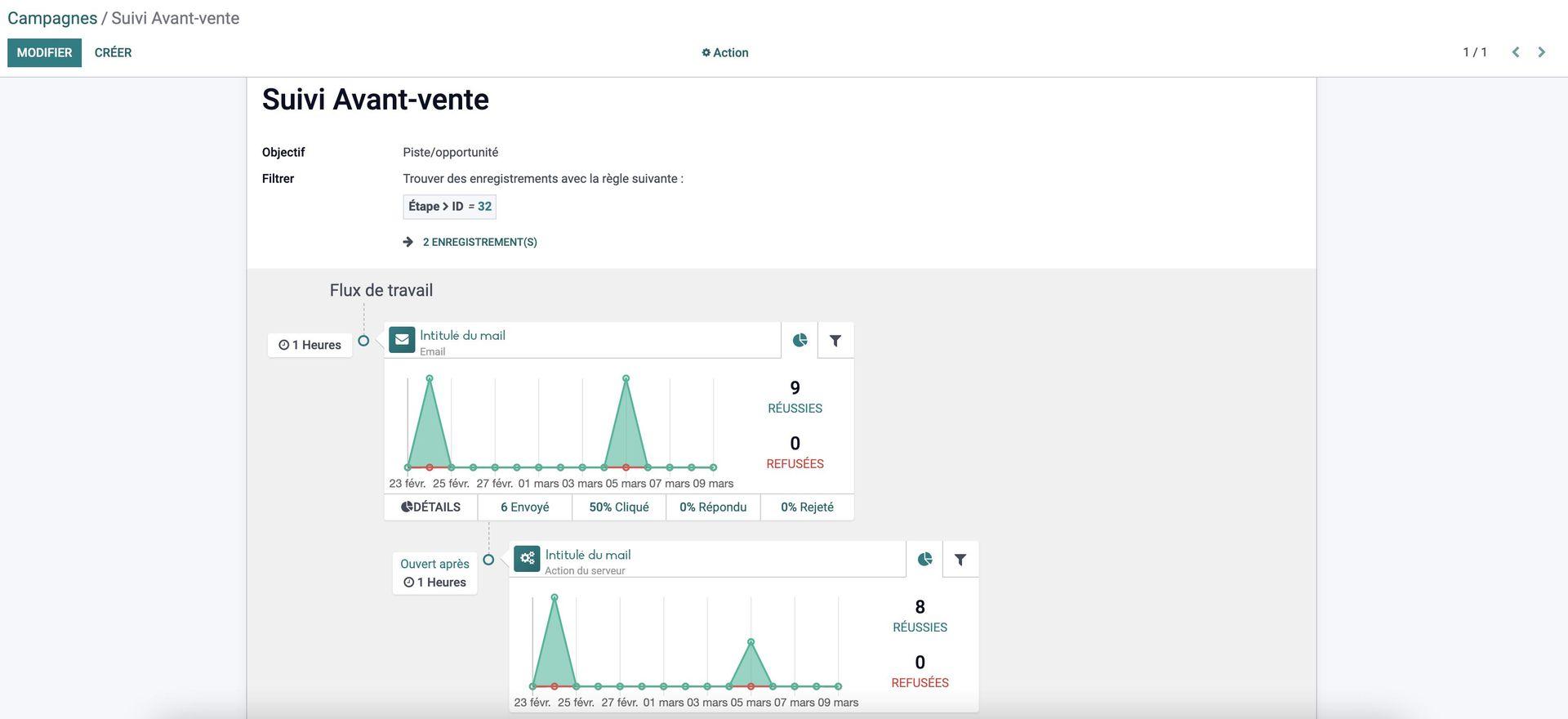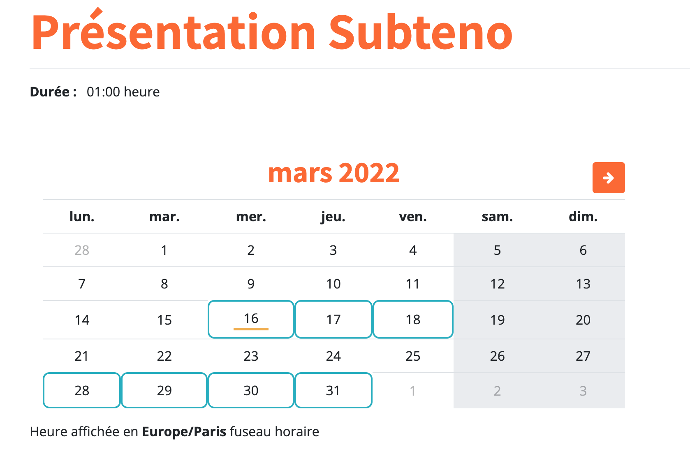 Simplified
appointment scheduling
Need to make an appointment for a presentation?
With Odoo, no more time wasted on email exchanges to schedule an appointment! Linked to the Website application, you can propose to your prospects, suppliers... to make an appointment with your teams directly on your website. They will set the appointment themselves according to their availability.
Generate leads
via events
You want to organize an event to present your company to prospects and you haven't prepared your guest list?
Odoo does it for you! As previously explained, the CRM application allows you to prospect companies by number of employees, type of company... Linked with the Event application, you will be able to send your invitations to companies that Odoo will have selected for you according to your search filters.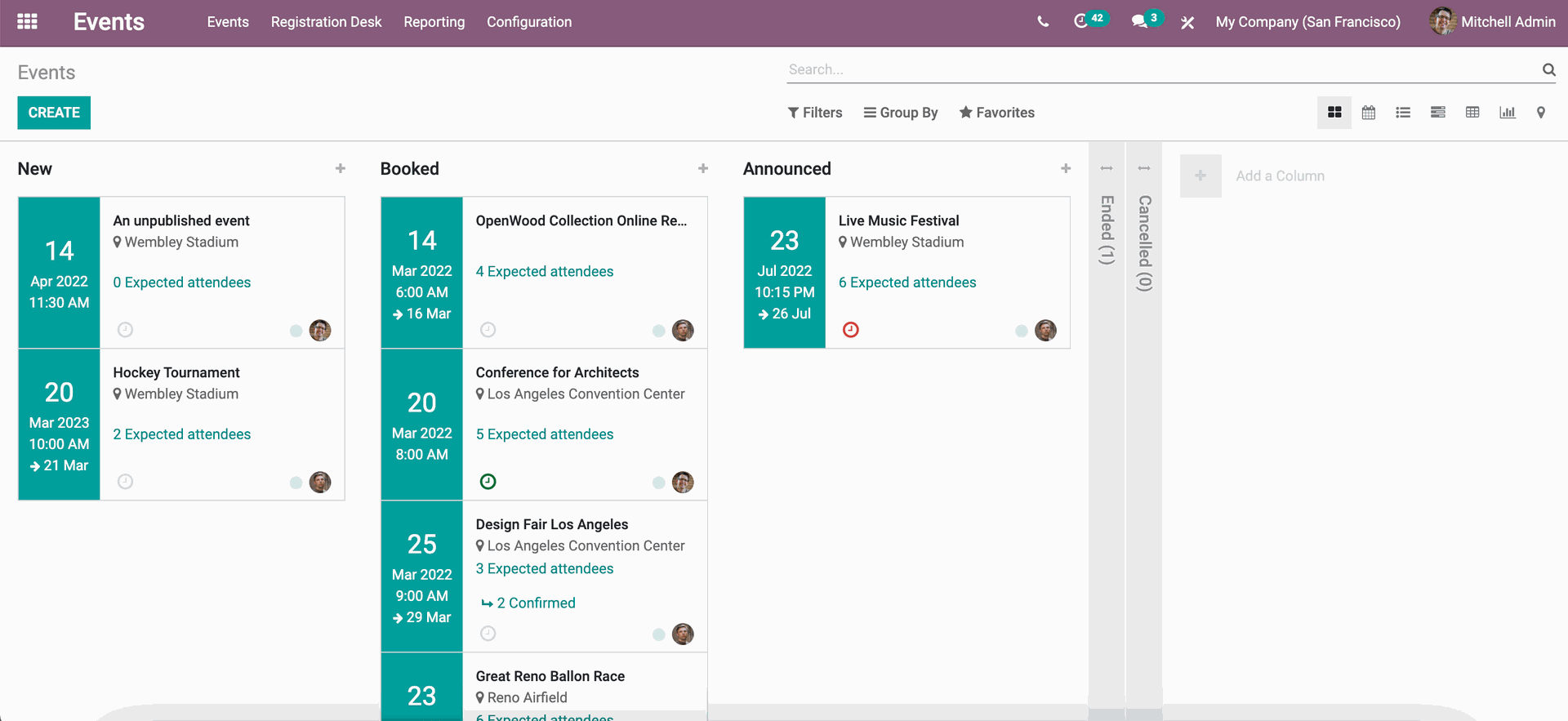 The assembly of applications allows you to retain your prospects from the first contact.